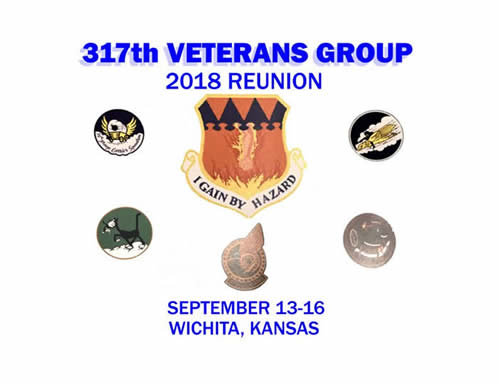 Our 2018 Reunion was a success, all who attended had a great time. Our hotel, the Wichita Marriott was superb. The management and staff treated our veterans like royalty. The reunion banquet food was the best we ever had.
Click Here for our Reunion Photos.
We followed our usual reunion format:

Thursday 9/13 Our hospitality room was open all day . We had refreshments and our reunion vendor , Mr. Gregory had squadron and 317th Veterans Group clothing and patches for sale, including special Wichita Reunion designed Tee and sweat shirts. At 7:00PM we had our meeting in the hospitality room to go over our reunion itinerary. We also honored our WWII, Korean war and Vietnam veterans and their families at this meeting with special rememberance pins. .
Friday 9/14 Our tour buses took us to visit the Air Mobility Command's 22nd Air Refueling Wing at McConnell AFB.We met the Airmen and learned about their mission and visited their KC-135 Tanker Aircraft. We also had a visit from the 317th Airlift Wing and toured their C-130J. After touring the base we had lunch at the base mess hall. After lunch we visited the Kansas Aviation Museum and saw why Wichita is called the Air Capital of the World.
Friday evening we hosted a wine and cheese function in our hospitality room.
Saturday, 9/15 We had free time in the morning and early afternoon to tour the many local attractions, or just to hang out in our hospitality room. At 5:00 PM our Banquet room opened, and at 6:00 PM we began our program with our guest speaker, Lt. Akeel Mitchell from the 40th Airlift Squadron at Dyess AFB. Following his informative talk on 317th Airlift Wing operations, dinner was served, after dinner and dessert, we had our evening's entertainment, Country Western Classics sung by the Llou Brown Trio. We also had our reunion raffle, where each ticket gave multiple opportunities to win one of the many great prizes.

Sunday, 9/16 We held our Farewell Breakfast in the hotel dining area and said our goodbyes to old friend and new ones too.
There is lots to do and see in the Wichita area. . Below are some links to just a few of the attractions.
Wichita Botanica Gardens and Butterfly Sanctuary