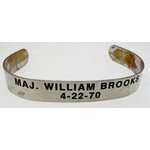 Major William L. Brooks was a pilot with the 40th TCS before being assigned as a AC-130 Gunship pilot in Viet Nam
On 22 April 1970, an AC130A Spectre gunship, call sign "Adlib," with its name "War Lord" painted across its side below and slightly behind the cockpit windows (tail number FT54-1625), departed Ubon Airbase on a "Commando Hunt" mission over the Ho Chi Minh Trail, Saravane Province, Laos. The aircrew was comprised of veteran pilot Major William Brooks, aircraft commander; 1st Lt. John C. Towle, pilot; Lt. Col. Charles S. Rowley, navigator; Lt. Col. Charlie B. Davis, navigator; Maj. Donald G. Fisher, navigator; Master Sgt. Robert N. Ireland, flight engineer; SSgt. Thomas Y. Adachi, aerial gunner; SSgt. Stephen W. Harris; aerial gunner; then A1C Donald M. Lint, aerial gunner; SSgt. Eugene L. Fields, aerial gunner and SSgt. Ronnie L. Hensley, illuminator operator. They were conducting an armed reconnaissance mission over the extremely rugged jungle covered mountains near Ban Tang Lou, Laos. Adlib was joined near its destination by two escort fighters, call signs "Killer 1" and "Killer 2". The weather was nearly perfect with visibility of two to five miles with some haze and a full moon.
At approximately 0150 hours, a number of enemy 37mm anti-aircraft artillery (AAA) shells burst around the aircraft. The gunship immediately initiated an attack against the AAA position. At 0159 hours, while in its fourth pass over the target and at an altitude of nearly 7,500 feet, the gunship was struck in the left lower rear section of the fuselage near the tail. Major Brooks radioed, "I've been hit, babe." No further transmissions were heard from the crew while the aircraft was still airborne.
During pull off from its own attack pass against the AAA emplacement, one of the fighter crew's observed the AC130A on fire, but under control. Moments later, Sgt. Fields reported this fact over the intercom and heard Lt. Col. Fisher report that he and his position were OK. SSgt. Fields and SSgt. Hensley attempted to extinguish the fire that was being fed by flammable flare markers. However, both men forced to retreat because of the intense heat and thick smoke. They collided in the thick black smoke, before Eugene Fields continued to feel his way forward to the right scanner window, Thomas Adachi's position. Finding the position empty, Eugene Fields snapped on an auxiliary parachute and exited through the open scanner window. Unfortunately while fighting the fire, SSgt. Fields became disconnected from the aircraft's intercom and does not know if Major Brooks issued a bail out command to the crew.
As the aircraft descended in a shallow straight line, the intensity of the fire increased and burning pieces of the AC130A were seen falling away from the gunship by their fighter escort. About five to ten seconds prior to the aircraft contacting the ground, a large unidentified object, suspected to be the left wing, was seen to separate from it. The aircraft exploded upon impact just east of a primary road and 2 miles northwest of a "Y" shaped road junction in densely forested mountains under total enemy control approximately 31 miles northwest of Chavane, 25 miles due west of the Lao/South Vietnamese border and 59 miles west-northwest of Kham Duc, South Vietnam. From the time of initial emergency call to impact, the aircraft remained airborne for roughly 90 seconds and covered almost 3 1/2 miles.
The following morning search and rescue (SAR) operations commence shortly after daybreak. SSgt Eugene Fields, was rescued shortly thereafter and was treated for minor injuries. SAR efforts continued throughout the day for the rest of the aircrew. Because of heavy enemy activity in the area, no ground search was possible. At the time formal search efforts were terminated, William Brooks, Ronnie Hensley, Robert Ireland, Stephen Harris, Donald Lint, Thomas Adachi, Charlie Davis, Donald Fisher, John Towle and Charles Rowley were declared Missing in Action.
On 8 November 1995, a group burial of the unidentifiable co-mingled remains of the AC130A Spectre gunship crew was held at Arlington National Cemetery. While the USG considers these men to be "remains returned", the families do not. They ask that Americans continue to wear their men's POW/MIA bracelet and help them fight for an honorable accounting of them.