Scroll to the bottom of this page to view Page 1 Photos
Click here to view other photo pages submitted by our 317th WWII Veterans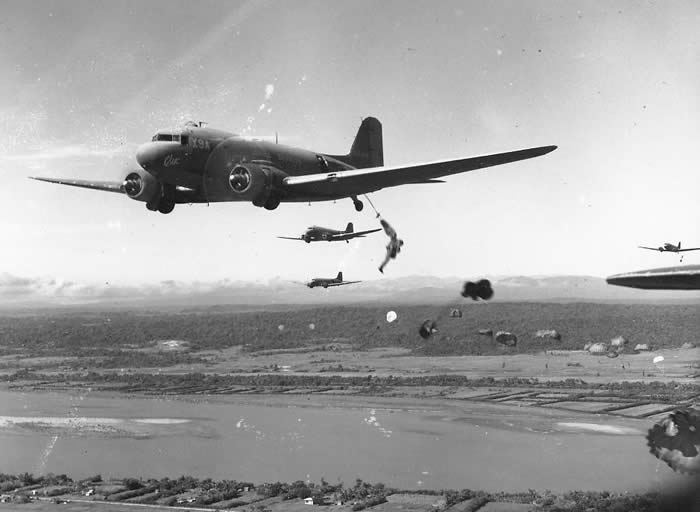 39th TCS C-47 CleoC during a troop drop operation.
(photo submitted by WWII veteran Othel Wilkins)
---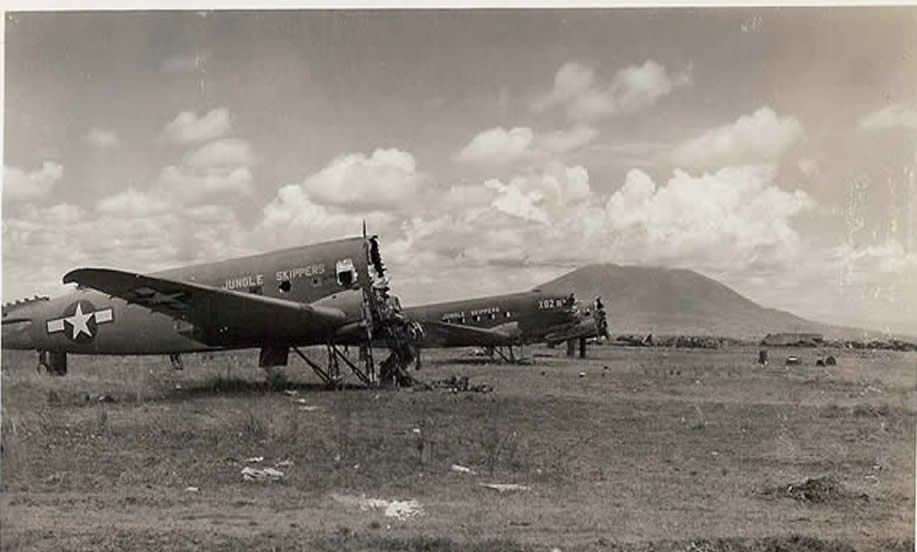 3 Jungle Skipper C-47's blown up by Japanese infiltrators at Clark Field 1945
(photo courtesy of Mr. LeGrand Poore U.S. Navy WWII )
Click Here to read a report on the incident
---
317th Group and Squadron Commanders
(1) 317th TCG Col. John Lackey
(2) 41st TCS Capt. E. J. Watson
(3) 40th TCS Capt. Earl Vintas
(4) 46th TCS Capt. Kenneth A. Young
(5) 39th TCS Capt. James G. Tully
---
317th TCG Headquarters
Clark Field, Spring 1945
Kneeling, LtoR: 1st Lt. Lorenzo R. Arnold, Capt. Mark J. Hodges,Jr., Maj. Robert I. Choate, Capt. Edgar Lowry, Jr.
Standing, L to R: Sgt. John Cunningham, T/Sgt. Harold E. Schooler, S/Sgt. Stanley F. Sarniak, Sgt. Frank W. Aderholdt,
Sgt. Gerald J. Matarazzo, Cpl. Roger J. Stewart, S/Sgt. Haskell R. Simon.
---
Operations Center