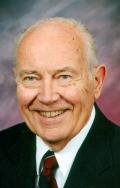 HAMPTON - Lt. Col. Donald G. Browning, USAF, retired, 76, died Tuesday, Jan. 6, 2009, in Ft. Myers, Fla.
A native of Dodge City, Kan., he was raised in Sheldon, Iowa, and Omaha, Neb.
Don graduated from the University of Nebraska with a BS in Business Administration and was a member of the Kappa Sigma fraternity.
He earned his MBA in Business Administration from Golden Gate University. He remained a loyal Nebraska Cornhuskers football fan.
From the time he was a young boy, Don dreamed of flying and was able to do so by joining the U.S. Air Force.
He served 28 years as a pilot and administrator, serving in France, Germany, Okinawa and Vietnam,
where he was awarded the Distinguished Flying Cross.
His stateside assignments took him to Florida, Oklahoma, Texas, North Carolina, Tennessee and Virginia, where he retired in 1982.
He was a true patriot and loved his country deeply.
A member of First United Methodist Church-Fox Hill, Don had served as Head Usher for many years.
He was also a member of the Daedalians (a fraternity of military pilots), the Air Force Association,
and served as membership chairman of the Peninsula Chapter of the Military Officers' Association of America.
A devoted husband, loving father, and proud Opa, Don is survived by his wife of 54 years, Nanci Browning;
their two children, Bill Browning of Washington, D.C., and Wendy Rose with her husband, Michael, of Marco Island, Fla.;
and three grandchildren, Sierra, Savannah and Jackson Rose.
A funeral service will be conducted at 2 p.m. Saturday, Jan. 10, 2009,
at First United Methodist Church-Fox Hill by the Rev. Sheryl Simmons.
Burial with full military honors will take place at 1 p.m. Monday, March 2, 2009 in Arlington National Cemetery.
Published in the Daily Press from 1/9/2009 - 1/10/2009