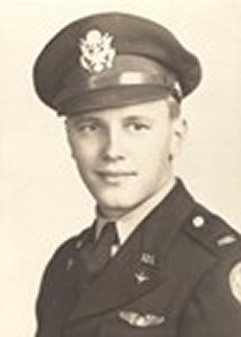 Richard G. Korthals
Richard G. Korthals, beloved husband, father, grandfather and great-grandfather passed away on July 17th, 2011 in Colorado Springs, Colorado. He was born in La Crosse, Wisconsin, August 16th, 1922 the first of 6 children born to the late John and Bertha Korthals. Richard graduated from La Crosse Central High School and received both his Bachelor of Science and Master of Science from Air Force Institute of Technology.

He fell madly in love with and married his cherished wife of 62 years, Lynn Korthals in 1945, while both were serving in the military in the Philippines during World War II. As devastated as he was by Lynn's death in 2007, his unwavering faith in his Savior comforted him and allowed him to continue his active, healthy life which he wished to be a reflection of God's love.

Service to others and sharing his devotion to God was the common thread that he wove into his numerous vocations. While he was in the Air Force he served as a pilot, engineer and professor. Following his retirement from the Air Force, he continued to generously give his time and talent as a university teacher and administrator, camp manager, lay minister, leader of spiritual growth seminars, freelance writer, published author, lecturer, grade school principal and hospital ministry volunteer. The words describe what he did, but it was the way in which he brought great love, kindness, intelligence and humor into what he did that we most remember and treasure. Dick's life was filled with purpose and determination to share the hope, strength and joy that came from his deeply personal relationship with his Savior at his side. He was a man of integrity, grace and dignity who lived his life not to glorify himself, but to give all glory to God.

Throughout his life, Dick greatly enjoyed spending time and communicating with family and friends, studying and discussing the Bible (he read it cover to cover 20 times), meeting with his Thursday morning bible study group, regularly dining with the "Ostrich Patrol", attending annual reunions with his 43-D Army Air Corps flying class, camping, hiking (he hiked to the top of 14K Mount Quandry at age 73), traveling (he backpacked through Moldova, Germany and Italy three years ago), playing cards, reveling in the beauty and wonder of God's creation , unmercifully teasing his siblings (and anybody else who could take it), and mailing the completed Christmas letter every year. More recently, he took pleasure sitting at the kitchen window with Toby watching the mountains light up with early morning sunlight, walking Toby twice daily so that he (Toby) could check his "pee mail", satisfying his intellectual curiosity with new learning adventures ( this past year he was studying genetics, brain physiology and the Dead Sea Scrolls), ferociously guarding his corner of the pool during his thrice weekly water aerobics class, gardening, sipping scotch with his buddies and cheering on the Broncos, the Rockies, the Packers and any underdog team. One of his greatest joys was having the privilege of officiating three of his grandchildren's marriages.

The sudden and gravely serious illness which resulted in Dick's death two days after its onset has left family and friends reeling with shock and sorrow. Yet, it eases our grief to rest in the assurance that even as he was leaving us, he was rushing into the waiting arms of his lifelong companion Jesus; we find comfort knowing that Dick is embracing his sweetheart, Lynn, and all of the family and friends that have gone before him. We can almost hear the jubilant cry that went up Sunday morning when he arrived, not at his usual pew seat at Holy Cross, but at his Heavenly home, and almost hear God whispering in his ear, "Well done thou good and faithful servant."

He leaves behind to cherish his memory his children, daughters Judy (Ted) Winkel of Ludington, MI, Sherry Korthals of Colorado Springs, CO, Patti (Bob) Furness of Bradford, NH, son David Korthals of Seattle, WA; 6 grandchildren (Ellen, Erika, Brad, Morgan, Brian and Austen); 4 great-grandchildren (Charlotte, Evan, Finn and Dexter); 4 siblings (Bud, Norma, Renie and Ruth); his faithful dog Toby; plus a host of cousins, nieces, nephews and friends.