Col. Philip W. Handley USAF (Ret)
April 9, 1935 - March 1, 2019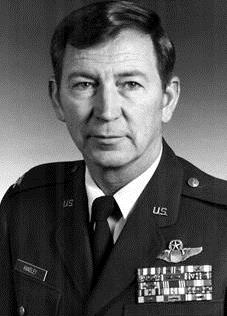 On March 1, 2019, (Ret.) Col. Philip Winston Handley, loving husband and father, passed away at 83, in his home in Gainesville, Texas. Phil was born April 9, 1935, in Wellington, Texas to Bura and Lila Handley. He attended the University of Texas prior to enlisting in the United States Air Force. He met and later married Solvejg Fletterman on September 1, 1961 in Evreux, France while attending pilot training. They raised two children, Philip Jr. and Andrea.
He dreamed of becoming an Army Air Corp fighter pilot from the first moment he saw pictures of the great piston driven fighters of World War II.
Phil earned his commission and wings through the Aviation Cadet program in 1959. He was a distinguished graduate from pilot training, fighter upgrade training and instructor pilot's school. He "flew the line" for all but eleven months of a twenty-six-year career, during which he accumulated over 7,000 flying hours in aircraft vintages F-86 Sabre through F-15 Eagle, including an early career stint in the C-130A Hercules. He flew 275 combat missions during two tours in Southeast Asia in the F-4D and F-4E. During his career he commanded the 22nd Tactical Fighter Squadron, was Chief of USAFE Standardization and Evaluation, was the 1st Tactical Fighter Wing Deputy Commander for Operations, and Commanding Officer of the 405th Tactical Training Wing. He is a graduate of Air Command and Staff College, the Industrial College of the Armed Forces, and the U.S. Army War College. Phil was a member of The Red River Valley Fighter Pilots Association (River Rats), and a MiG Killer credited with the highest speed air-to-air gun kill in the history of aviation. Upon his retirement in 1984, his awards included 21 Air Medals, 3 Distinguished Flying Crosses, and the Silver Star.
He also authored the memoir Nickel on the Grass: Reflections of a U.S. Air Force Pilot in 2006, was inducted into the Gathering of Eagles Foundation in 2011 and was awarded the Master Air Pilot Certificate by the Grand Master Prince Andrew of England in 2015.
He was an avid golfer and cherished time spent with friends, family, and his dog Cookie. He is survived by his wife Solvejg, son Philip and daughter Andrea.
He will be buried, with military honors, on Wednesday, May 8, 2019, at the Dallas Forth Worth National Cemetery, 2000 Mountain Creek Parkway, Dallas, Texas 75211.