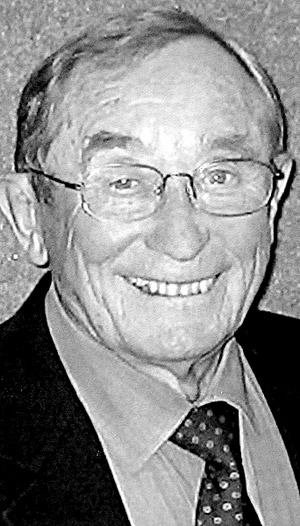 Charles Nelson Valentine was born on Jan. 8, 1925, in Lancaster, Ohio, to Guy and Leona Valentine. His father was killed in an industrial accident when Charles was 8 months old, and he grew up with his grandparents, Charles and Sarah Stein, in the small village of Stoutsville, Ohio, which he always called "home." Following graduation from high school, he entered the U.S. Army Air Force and served as a pilot during World War II, the Korean War, the Cold War and the Vietnam War. It was during service in England that he met, fell in love, and married Annie, his partner for life.
Charles was proud to be a member of the "Greatest Generation," those Americans who grew up during the Great Depression of the 1920s and 1930s and experienced an almost overnight metamorphosis transforming them from kids just out of high school into young adults who answered the call of their country to help save the world. He completed pilot training in the Army Air Force and at age 19 became commander of a B-25 combat crew. Following World War II, he elected to continue his military career and served in Germany, England, Saudi Arabia, Vietnam, and in all four corners of the United States and was awarded the Distinguished Flying Cross, the Air Medal with six Oak Leaf Clusters and two Air Force Commendation Medals. Charles was one of the first Air Force pilots to fly the Lockheed C-130 aircraft. He participated in reliability test flights at the Lockheed factory and in the first Air Force field tests. He was pilot of the first heavy equipment parachute drop from a C-130 and of the first C-130 crossing of the Atlantic Ocean to demonstrate the aircraft to potential users in Europe and North Africa. Following retirement from the USAF, he accepted a position with the U.S. Navy as associate head of the Aircraft Maintenance Department at Naval Air Station Point Mugu, Calif. During this service, he received the Navy Meritorious Civilian Service Medal from the Naval Air Systems Command. He retired from there in 1995 after completing over 52 years of service on military aviation.
Charles was a charter and life member and a delegate to the first national convention of the Air Force Association, and a life member of the Military Officers Association, the Order of Daedalians and the Knights of Pythias Lodge. He was a life and active member of the Commemorative Air Force and served for many years as head crew chief of the C-46 "China Doll," a World War II aircraft based at Camarillo Airport that has been highly visible at air shows throughout Southern California. He was a member of Mount Cross Lutheran Church in Camarillo.
Charles was preceded in death by Annie, his loving wife of over 51 years, and is survived by daughters, Susan Evans (Patrick) of Camarillo, Carol Gregor (Joseph) of Lakeside, Calif., and Barbara Olson (George) of San Antonio, Texas; son, Andrew (Bridgett) of Camarillo; half-brother, Terry Rife (Jean ) of Circleville, Ohio; seven grandchildren, Eric, Cari, Amy, Jake, Anna, Sarah, and Charles; two great-grandchildren, Eric and Emily; and many cousins with roots in Ohio.
A time of visitation with viewing will be from 4 to 7 p.m. on Saturday, Jan. 10, 2009, at Chapel of the Hills Conejo Mountain Funeral Home in Camarillo. The funeral service will be at 1 p.m. Sunday, Jan. 11, 2009, at Chapel of the Hills Conejo Mountain Funeral Home, followed by burial with U.S. Air Force military honors.