2019 Macon / Warner-Robins, Georgia Reunion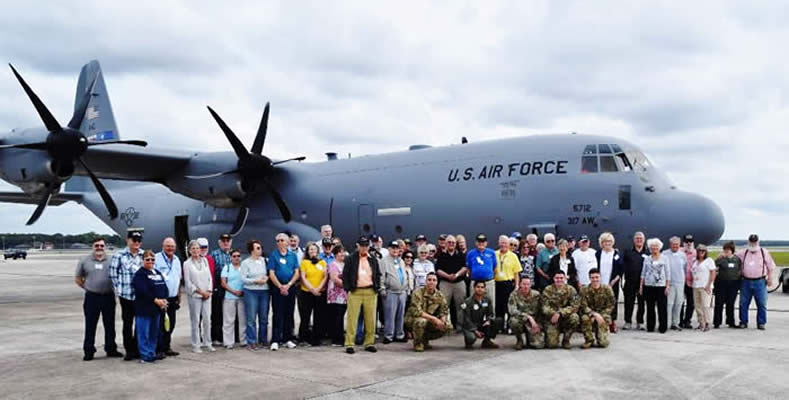 Photo by Jerry Bruce
317th Veterans Group 2019 Reunion
Macon / Warner-Robins, Georgia
Thursday, October 24th through Sunday, October 27th

Our Schedule of Activities
Thursday, Oct. 24 Our Hospitality Room was open all day. We had refreshments, exhibits and Mr. James Gregory, our reunion vendor had 317th Veterans Group Reunion and Squadron clothing, hats, patches and souvenirs for sale. At 7:00 PM we had a meeting to go over our reunion itinerary.

Friday, Oct.25 We traveled to Warner- Robins to visit the Museum of Aviation. It's the second largest air museum of the US Air Force and is located next to Robins AFB. Our tour buses arrived at the hotel at 9:00 AM. At noon we had a catered lunch at the museum in a private room we reserved for our group. The museum has four buildings of exhibits as well as outside exhibits and a nice gift shop. After lunch we visited the 317th Airlift Wing's C-130J Aircraft at Robins AFB and were given a briefing by the Airmen of the 39th and 40th Squadrons. Then we departed back to our hotel in time to rest up for the evenings wine and cheese social in our hospitality room.

Saturday, Oct.26 We had free time early in the day to visit some of the many attractions in the area or to relax and socialize in our hospitality room. At 5:30 PM our Banquet room opened for the evenings activities banquet dinner.
Capt. Kelsey of the 39th Airlift Squadron was our our guest speaker and brought us up to date on the missions of the 317th AW. MGen Pascal Valentin(FAF Ret.) also spoke about the former 317th Air Base at Evreux. It has become an important French Air Force transport base and home of the French president's aircraft. Following our speakers, dinner was served. After dinner and deserts, we had some great entertainment by Chris Edwards. He did a great job of singing those old songs we know and love, and was given a standing ovation for his performance. And we also had our reunion raffle with a lot of nice prizes.

Sunday, Oct. 27 We had our Farewell Breakfast and said our goodbyes to our friends, old and new.